Symposium Speaker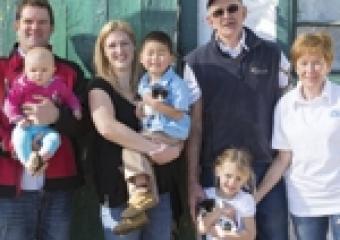 KELLY FORSTER, RD
Clovermead Farms Inc., Ontario
Mrs. Forster currently works as a Registered Dietitian at the Mental Health Association of Wellington Waterloo Dufferin, treating outpatients with eating disorders. She was introduced to farming life when she married into the Whale family in 2007.
Winner of the 2014 Dairy Farm Sustainability Award by Dairy Farmers of Canada, Ontario's Clovermead Farms takes great pride in its work and operation. It is run by Mrs. Forster and her husband Korb Whale, along with his parents, Bruce and Deborah Whale. The farm, which has been in the family for seven generations, consists of a 350 cow herd and 475 acres. It is the family's philosophy to not only tend to the land, but also improve it.
Clovermead Farms endeavors to consistently produce high-quality milk in an environmentally and socially conscious way. At Clovermead Farms, environmentally beneficial practices are continually being considered, developed and undertaken. The farm uses an anaerobic digester to power its operations and fertilize the land. The Whales also participate in research projects undertaken by the veterinarian or engineering departments at the University of Guelph, and are currently involved in a Greenhouse Gas (GHG) mitigation project being led by the School of Environmental Sciences.
The farm's mission statement sums it up: Clovermead Farms strives to sustainably produce milk profitably, and have fun doing it.